Welcome
YOU WANT RESULTS .


Flip The Switch . . . This Changes Everything!
My ideal client is one who is open-minded and desires to change or improve an area of their life.
Oddly perhaps, I love working with "the tough cases" ... those who have tried and tried again ... perhaps have "seen every kind of doctor", and still not found results.

There are over 400 different psychological approaches or methodologies being used today in therapy, coaching, business, and personal development. The guidance here is constructed of a collaboration of methods, with our exclusive beFIT program touted as perhaps a paradigm-shifting approach.

Roy Cooper, author of dozens of published articles on wellness and personal empowerment, and the soon to be released book, "Stop The Pain", is an Educator, Certified Clinical Hypnotherapist, as well as Thought Field, and Emotional Freedom Practitioner, specializing in Stress Release, Chronic Pain Release (Back, Neck, Joints, Fibromyalgia, Migraine), & Relationship Revelations.

Unconscious beliefs largely guide daily behavior, either limiting or empowering ... why wouldn't everyone want to truly understand how to powerfully step into The Greatest Reality Show on Earth ... the one you write the script for everyday? Unlock the full potential of your original blueprint! We'll take you there.
Call so we can discuss details. Very Best Wishes


This could be faster, easier, more affordable, and effective than you ever could have imagined.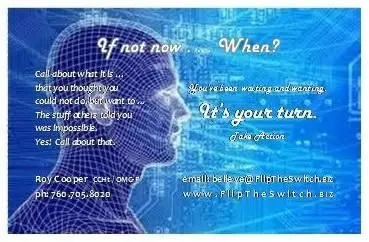 You've been waiting and wanting.
It's your turn.
Take Action.
Satisfaction Guaranteed!